Intermediate and Advanced Cellos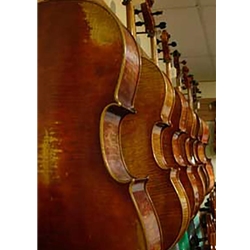 Our intermediate and advanced level cellos are fully hand-carved and excel both in tone quality and playability. These instruments are well suited for the intermediate student, the advanced player, and even the professional. The cellos in this range are both new and used. We also carry many older quality instruments by known makers. When considering one of these cellos, we encourage you to take your time. Do not make any rash decisions. Come in our store and try several instruments. Our knowledgeable staff will be happy to assist you as you find the cello that is ideal for you.
Below is a catalog list of some of our intermediate and advanced cellos. Click on the items for larger images and a full description.
* We are working on updating our website and not all products may be listed, feel free to contact us for availability of any products not listed.
*Shipping Special*
FREE shipping on all orders of $100 or more. (Excludes AK & HI. Additional charges may apply to oversized products including cellos, basses, and hard cello cases.)