AVOID EXTREMES OF TEMPERATURE AND HUMIDITY:
NEVER LEAVE YOUR INSTRUMENT IN A CAR (even in the trunk) OR EXPOSE IT TO DIRECT SUNLIGHT!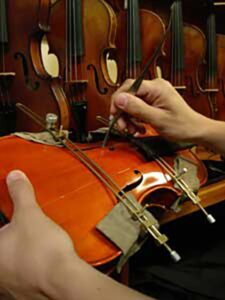 When exposed to:
HEAT
– the glue will soften and your instrument will fall apart.
– your rosin will melt and bond to the varnish.
– your bow hair and instrument will dry out.
– your bow will severely warp.
COLD
– the wood will dry out and crack.
– your bow hair will become brittle and break.
* Normal room temperature and humidity is best for your instrument. (If your room is too dry, purchase a humidifier made for your instrument or case.)
ALWAYS REMEMBER TO:
– Make sure your hands are clean before touching your instrument.
– Loosen your bow hair before putting away your instrument. (This keeps the hair from stretching out.)
– Never tighten your bow hair too much. A pencil should be able to slip between the hair and the middle of your bow stick. (If your bow is tightened too much it may break or severely warp.)
– Never play with or touch the bow hair. (If the hair becomes dirty or greasy it will be useless and will have to be rehaired or cleaned by a professional.)
– Never attempt to tune your instrument with the pegs unless you have been trained to do so. (It is very easy to turn the pegs too much and break your strings.)
Cleaning:
IT IS VERY IMPORTANT THAT YOU:
– Always keep a soft cotton cloth in your case. When you are done playing, wipe off your instrument immediately. (Excess rosin will eventually bond to the varnish of your instrument and ruin it.)
– Lightly clean and polish your instrument with special cleaner and polish intended for your stringed instrument about once a month. (Never use Pledge, Endust, or any other furniture polish.)
Storage:
ALWAYS REMEMBER TO:
– Put your instrument back in the case when you are not playing. (This helps to avoid accidents that may severely damage your instrument.)
– Store your cello either on its side or in a corner of the room with the bridge facing the corner.
– Store your upright bass in a corner with the bridge facing the corner.
– Before moving your instrument make sure that your case is either latched or zipped or both. (Accidents can be costly.)
Carry your cello or bass in its case with the neck on your shoulder and the bridge facing towards you. (If you accidentally bump something or someone the damage will be minimized.)
THE MOST IMPORTANT PART OF THE CARE AND MAINTENANCE OF YOUR INSTRUMENT IS LOVE!