Violins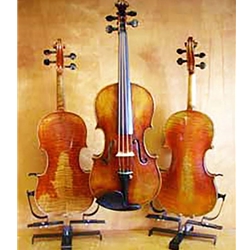 At Violin Outlet, we believe that each player is unique. It is our goal to find the best possible violin for each individual. The instrument must meet or exceed the player's current needs at an affordable price. We carry several levels of violins to accommodate a complete beginner as well as a professional.
Violin Outlet offers rent-to-own programs and accepts trade-ins.
We hope to provide each customer with friendly and knowledgeable service and all the necessities needed throughout one's playing career.
Visit our violin sizing guide and learn how to measure a student for a violin.
Browse Violin Outlet's vast selection of violins available including student violins, intermediate and advanced violins, vintage and fine violins, and electric violins.
* We are working on updating our website and not all products may be listed, feel free to contact us for availability of any products not listed.
*Shipping Special*
FREE shipping on all orders of $100 or more. (Excludes AK & HI. Additional charges may apply to oversized products including cellos, basses, and hard cello cases.)
Categories
Products
20 Products On Page