Electric Violins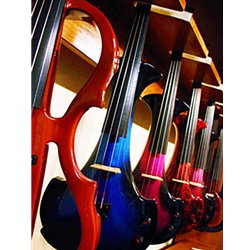 Ready to rock? Electric violins are becoming more and more popular. Typically, they are used by performers of jazz, pop, country, new age, etc. They are stringed instruments that are basically a cross between an electric guitar and an acoustic violin. An acoustic violin can be made into an electric violin by adding a pick-up that runs to an amp. Straight electric violins are available in many designs and colors. They can be made from a variety of materials and include the pick-up built into the instrument. Much like an electric guitar, they can also have a variety of effects such as reverb, delay, or distortion and can have 4 strings, 5 strings, or 7 strings. Crossover acoustic electric instruments have also become popular and give the player the best of both worlds with acoustic sound and a built in electric pickup.
Finding the right electric violin to suit your needs can be a challenge. Violin Outlet carries pick-ups from Fishman, LR Baggs, and Realist. Our electric violins come from suppliers such as Yamaha, Bridge, Glasser, and NS Designs.
Below are a few examples of our electric violins. Click on the items for larger images and a full description.
* We are working on updating our website and not all products may be listed, feel free to contact us for availability of any products not listed.
*Shipping Special*
FREE shipping on all orders of $100 or more. (Excludes AK & HI. Additional charges may apply to oversized products including cellos, basses, and hard cello cases.)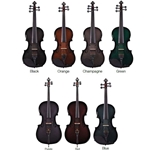 Glasser Carbon Composite Acoustic Electric Violin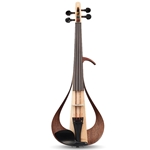 Yamaha YEV104 Electric Violin